Greg Giddens
November 30, 2010 - 9:39 am
[Reviewed on Xbox 360]

Divinity 2 is chock-full of content. The expansive world full of deadly creatures and hundreds of quests and areas to explore is really impressive. Moreover, this is two games in one. Last year's Eco Draconis has been remastered, and takes up the majority of your playthrough. New add-on Flames of Vengeance adds even more story to this Dragon Knight Saga.
To begin with, it seems like such a tried and test formula that you'd be completely forgiven for assuming Divinity II: The Dragon Knight Saga would be a safe and predictable RPG affair. Yet while the setting is more than familiar, and the storytelling simple and traditional, there's something quite special about this.
There's always something charming about a good old fantasy tale, but there's a twist to this one. After a couple of hours of the main storyline, you become the very thing you and your order are so intent on eradicating: a dragon. The game kicks off properly at this moment, and is blessed with a few additional twists as you progress. It's strong storytelling which completely pulls you in, and flying around as a dragon is an incredible experience.
Mostly, however, you'll remain on the ground as a Dragon Knight, the last of your kind, and follow the story in a linear fashion. You'll visit large map areas in which to explore and complete quests, before using some form of transportation link to visit another, with some freedom later on to visit areas at will. But the areas are so large and full of interesting characters, towns and intricate dungeons that it feels a great deal more open-ended and free.
It's a testament to the design. It's all neatly packed together in easy to swallow, bite-sized chunks, and as such it's focused and easy to manage your list of quests, of which there are many. You can easily spend 80 hours fulfilling the denizens' needs and wants, as well as the main quest line. And the amount of additional dungeons and forests that litter the world, begging for exploration, can keep you amused for many more – not for the sake of quests either, but simply through curiosity. Hours later you'll emerge from an area several levels higher and wiser. It's a vast and well crafted world.
Surviving this world can be a challenging task. It's all too easy to walk into a situation where a dozen enemies pick you apart, so a more strategic approach, rather than a gung-ho one, is required. The combat is of the ilk more commonly seen in MMOs. It's initially simple, with a single button for main attacks and then many other special attacks unlocked with each level and mapped to other buttons as you see fit. It soon becomes a vast system of situational abilities, passive and otherwise, that require some thought before charging in.
Additionally, while you choose a single class to concentrate on at the very beginning, you're granted the ability to level up skills from whichever class you fancy, allowing you to build a character entirely of your making. It means you risk becoming a master of nothing, but it allows for many different approaches to combat, and having a ranged attack to complement your warrior setup, for example, is extremely beneficial. And if you find your character's skill set to lack the effect you desired, there are NPCs in-game willing to reset your skill points, for a price.
It's the believable characters, though, who are mostly responsible for keeping you coming back. A mostly excellent voice cast from every corner of Britain dishes out quests, serves you in trade and threatens you in combat. They are varied in personality and speech, and successfully add to the illusion of this fantasy world. The writing is occasionally oddly patronising but equally occasionally brilliant, and the result is a striking balance which maintains the right tone of drama and light-hearted humour.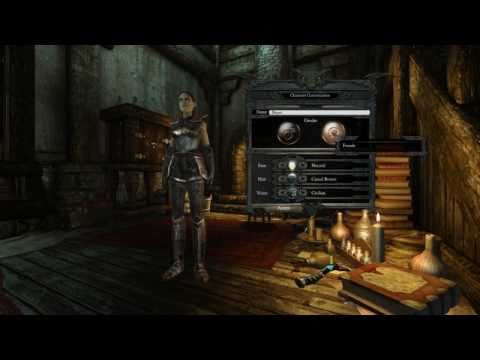 It's a shame that they don't always look as convincing as they sound. Visually, it's a mixed bag all round. Character models are mostly dodgy, with unnatural animations, but enemies hold up better. The rebuffed engine means the environment mostly looks excellent, making great use of lighting and showing superb detail, but the odd bit of texturing – especially in the dungeons – still falls flat. It's all a bit inconsistent, and paired with long loading times it forces a break in immersion every so often.
But it's an otherwise excellent RPG two-piece, scratching that traditional itch, and you get to play as a dragon, which is awesome.