Jeremy Peel
July 17, 2012 - 9:00 am
Review: Is
ANNA

the game to capitalise on the adventure game renaissance as made terrifying in Amnesia: The Dark Descent? Or will it join the illustrious tradition of horrendous girl's-first-name horror?
"If you believe in supernatural, or not, Anna will know," burbles the confused trailer of this horror adventure game. "You will not receive any visual hint about when you should get scared. You will just get scared, or not, and Anna will notice and use it, because Anna has a mind."
It might sound like a @petermolydeux tweet but, however poorly phrased, Anna's admirable aim is to be a truly reactive horror game. And in a genre born from tight directorial control, so indebted to cinematic technique, that would be really something, wouldn't it?
I ask so that the developers reading – whose minds are now teeming with wriggling, exciting ideas – can run off to make the remarkable game this inspired concept deserves. As for the rest of us – well, we have to deal with the game Anna really is: an ambitious dirge, as burbled, confused and nonsensical as its pitch.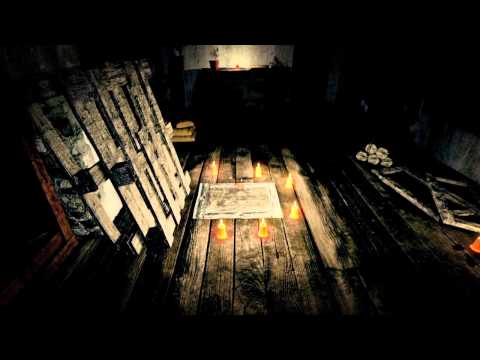 Watch that trailer and you'll notice that Anna owes an awful lot to Amnesia: The Dark Descent, the second-scariest game in recent memory. It's a small-scale adventure game which takes advantage of its first-person perspective to make its environments minutely interactive, on a genuinely granular level.
As in Amnesia, the mouse pointer acts as a hand. The still-useful example is the drawer: if you want to inspect its contents, you'll need to click and hold the handle, pull the mouse backwards to wrench it open, and see the physics-enabled objects inside rattle about in response.
The effect is to change the way you think about your immediate environment, which becomes less cover or obstacle and more living, breathing world which demands every detail inspected. It made for an effective update of the adventure genre when Frictional Games did it – first with the Penumbra series, then with Amnesia – and uptake has been slow enough that it's still refreshing here (look to Fullbright's Gone Home for an upcoming serious contender).
Use 'monitor' on 'window'
But if Amnesia was a '90s adventure game in disguise, Anna's reverence for the form frequently sees its fake moustache fall embarrassingly to the floor. It's still in love with the genre's tropes, and will ditch Frictional's innovations in favour of an awkward catalogue of verbs at every possible opportunity.
To simply grab an object, for instance, you must click the desired item to reveal three on-screen options, from which they can then select 'Pick up'. Two steps instead of one might seem inconsequential, but that soon becomes 20 instead of 10, 600 instead of 300.
The issue could be solved easily enough by conflating the options to 'Use' and to 'Pick up' – always mutually exclusive as far as I could tell – and mapping them to the 'E' key, leaving both mouse buttons free for the purposes of one-click examining and pulling doors about. A little Apple or Amazon philosophy wouldn't go amiss – it shouldn't take eight button pushes to move water from one place to another, as it does here. I'm sure it was Steve Jobs who said that.
Nitpicking is what all this sounds like. Nitpicking, shmitpicking, I say. This interface quirk is single-handedly responsible for sabotaging much of the immediacy and tangibility of Anna's engine, and makes this a game as much about UI-wrestling as, ah, whatever it's supposed to be about.
You can 'examine' every last rock, rivulet and rusted stove you might stumble across. The text descriptions occasionally illuminate, but are regularly scuppered in their attempts at poeticism by iffy translation from the developer's native Italian.
Ultimately they provide another reminder of the ugly metal box that sits between you and the beautiful old sawmill you're just dying to be able to lose yourself in. The whole mess stinks of a desire to tell rather than show, when the gorgeous Unity-based tech is perfectly capable of displaying anything its developers might be capable of thinking up, thank you very much.
The scariest game in recent memory, by the way, is Need for Speed: The Run. That atrocity surgically removed out-of-car interaction in favour of QTE cutscenes, and only threw the player complete control occasionally, as if it were a delicious but fattening treat. Anna, as its trailer outlined, is The Run's antithesis: a game that purports to react to your actions – your very emotions – rather than taking the lead.
That's Anna's thing, and the source of its real scares. I'm not too worried about ducking mechanical spoilers here – like in the cinema, the only thing more terrifying than not knowing the jump is coming is knowing that it is coming. But if you'd rather go in cold, God help you, then by all means skip the next couple of paragraphs.
Typically, the game – or Anna, as her designers would have it – will spawn an object or… thing in an already-explored space just outside your field of view. Look, look away, look back – every time, a recipe for a pant change. Or she might trigger an unexplained clunk in the dark corner over there, or a knock at the door behind you.
Though much of its actual substance is occult nonsense that won't stay with you once you've escaped the main menu (scarier than you might think – tied to F1 rather than Esc. Brr...), the mechanics are sound, and will have you freeze in abject fear more often than not.
But the finickity second-to-second interaction sees any tension wisp away into nothingness, while obscure solutions mean that the brief terrors are relegated to providing intermittent relief from pixel-hunt frustration.
Edgar Allan No
Anna's central conceit seems to have been to stage an exploratory journey through an abandoned place. Its haunted sawmill setting is reportedly drawn from an Italian folktale, and holds a story which seems indebted to Gothic short stories – a couple of Edgar Allan Poe-type touches are inspired. But in searching for some kind of compulsion to push you forward, developers Dreampainters have plunged their hand into the nauseous depths of the very worst Sierra adventure games.
Eventually a kind of reactive horror wins out, but one far from the designers' intentions: claustrophobia. Trapped in tiny environments, reduced to attempting last-ditch combinations of items in your inventory, you'll instead find escape through the only passageway available to you, to the desktop.
I'm obligated to point out that Anna is designed to be played through more than once, offering room for three distinct playthroughs, each with their own puzzles and endings based on player decisions. Anna is non-linear to its core, and while that's absolutely commendable and would be really lovely in other circumstances, here it's like being offered seconds once you've finished your plate of razorblades. I'd advise working out whatever the gaming equivalent is of burying your food in your mash, and doing that.
Sadly, despite Anna's pretensions, there are side-quests in Skyrim more compelling, more nuanced, and with greater depth of interaction. Play them instead. Play Amnesia: The Dark Descent. Play through the Penumbra series. Play the guitar, or the clarinet. Don't play Anna.
Anna, from Dreampainters, is available now for PC.