James Haresign
June 8, 2012 - 2:33 pm
News: Digital Extremes are promising that their upcoming game isn't just a cover based shooter with a franchise skin but perfect for the Star Trek experience.
All the footage we've seen of Digital Extremes' Star Trek makes it look like another cover based shooter that just so happens to have joined the Federation. Something that struck a lot of fans as something not very Star Trek at all. However, talking to 1UP Sheldon Carter, creative director at Digital Extremes, points out that the show itself was always character-centric and had plenty of action scenes, and that this game was one of the first attempts to capture those elements more accurately.
"When you think about Star Trek, you think about the iconic characters, you think about Kirk and Spock. So it kind of just evolved from that. I said, okay, what's iconic about Star Trek? The Kirk and Spock story. Especially in the last movie, that relationship really came to the forefront.
"And we're in that universe, and so then I thought, okay, what can you do in an action-adventure game? Well, you can have the kind of Metroid elements, where you can scan and you can have interaction with characters, you can still have the characters have their personalities, you can do mind-melds and nerve pinches… So for us, we just felt like that was the best way."
Not only that but it looks like we get to recreate that famous ripped shirt scene of Kirk vs the Gorn from the original series episode The Arena. "We wouldn't be basing a game off of the "Arena" episode without thinking that through. Because the Gorn were in one episode 45 years ago, the fact that they've remained so high in people's consciousness, for that long, it was a no-brainer for us to do."
The trailer below is gameplay footage showing just how the co-op will work, one screen is Kirk, the other Spock. It's also very cover shootery, but an awesome co-op looking one at that.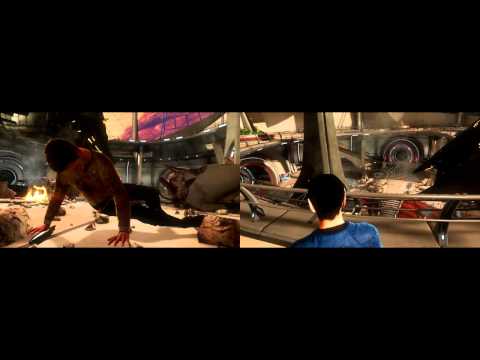 Keep an eye on BeefJack for more on Star Trek.