Lewis Denby
June 5, 2012 - 1:00 pm
Opinion:
RESIDENT EVIL 6

has turned up at E3 looking very much like an all-out action game. Is it time Capcom stop pretending they're making a survival horror series, and embrace the shooting fully?
Did you see the Resident Evil 6 footage at yesterday's Microsoft press conference at E3? Capcom have spoken about how they hope the next Resi will sit in the middle of the survival horror and action poles, but what they've been showing off tells a different story. Here – if you didn't see it, why not have a gander right now?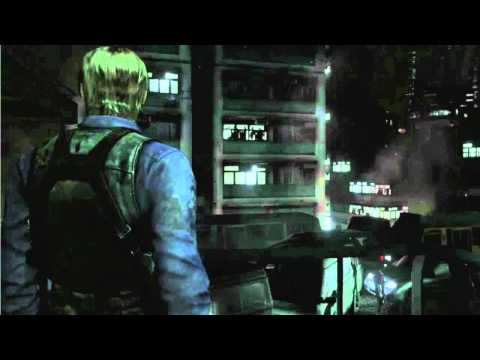 Hear that sound? It's the sound of a million angry Resi fans typing furiously onto the internet.
Resident Evil hasn't been pure survival horror for a long time, and there's nothing wrong with that. Action games, as we all know, can be tremendous wholesome fun, and there are few things more excellent than blasting through hordes of zombies with super-powered rockets.
What's strange, though, is Capcom's continuing insistence that Resident Evil is still all about horror, honestly, it's just that they're trying to bring action elements into what is definitely still horror to make sure that the horror is still relevant and exciting and stuff.
Resident Evil, reimagined as Call of Duty
The Resident Evil 6 demo at E3 2012 does not showcase a horror game. It showcases a tightly scripted, linear third-person shooter with enough 'splodes in it that it might as well be known as Call of Duty: Biohazard.
The demo features guns, helicopters, high-speed action, running away from burning buildings, aircraft falling out of the bloody sky and crashing into things, and all manner of gung-ho mumbo jumbo. It also features zombies, but mainly in massive, angry packs that charge like enemies in – oh, I don't know – a third-person shooting game.
There's nothing wrong with making an action game, but I wish Capcom would just admit it.
The real worry, though, is that the Resident Evil action games have always been a bit ropey. Resident Evil 4 managed to perfect the balance, and was a masterfully designed and genuinely frightening encounter with the infected masses. Resident Evil 5 headed more into standard shooter territory, and lost some of its personality with it. Since then, we've had Resident Evil: Revelations, whose horror bits were brilliant but whose action wasn't so great, and Resident Evil: Operation Raccoon City, a co-op shoot-fest which was quite dreadful.
Horror-centric action games have often proven themselves to be excellent – but Capcom, historically, haven't been very good at making them. Fingers crossed they can get this one right, and embrace the shooting properly if that's the direction they've decided to head in.