Lewis Denby
February 14, 2011 - 12:03 pm
Last Friday, experimental modder and games researcher Dan Pinchbeck revealed that Dear Esther, his Half-Life 2 mod, would be released as a commercial product instead of a free modification. The team had shown their work to Valve, who had been impressed enough to invite them to release Esther as a full, purchasable game on Steam.
Gaming sites reported the news positively, delighted that a project that several people have poured several years into might actually make some money out of the hard work they've done – and that a wider audience might have access to a game that looks quite extraordinary.
But on modding website ModDB.com, the reaction has been quite different.
There, users feel not just disappointment by the game's commercialisation, but hurt by the developers. It's a betrayal, they say. They were promised a mod, and now it's a game, one we'll all have to part with between £5 and £7 for when it's released in the Summer.
This isn't just the reaction from a few isolated individuals, people who never played the original mod in 2008 and don't appreciate how much work has gone into Robert Briscoe's remarkable remake. This is the reaction of a huge chunk of the website's user base – including people who played and loved Dear Esther upon its initial release.
And to these people, on ModDB and beyond, it's the positive reaction of the gaming press that's baffling.
"Can't understand why games journalists can't understand members of the modding scene feeling betrayed by Dear Esther going commercial," wrote one user on Twitter. "I don't necessarily agree with the latter sentiment, but I do sympathize with it and most certainly understand it."
I'm trying to understand it, but I've been struggling. To me, this is news to be celebrated: a talented, innovative game designer has finally had the chance to take his wonderful ideas to the marketplace. Dear Esther has been celebrated by players and critics alike, picking up an international award. It's a game unlike no other, and it's largely adored. Why is an angry reaction understandable?
I asked the aforementioned Twitter user, known as houseinrlyeh, to explain.
"Is it really a surprise to you that someone might feel that the Dear Esther guys have leveraged the mod community for marketing?" he said.
It does come as a surprise, to be honest, but looking through the hundreds of comments in the ModDB discussion, it seems that this is a common theme.
Many people there believe that the plan was to release a commercial game all along – and that Pinchbeck and Briscoe pretended to be making a mod instead, taking advantage of a supportive and tight-knit community which would allow a word-of-mouth buzz to spread in a way it might not in the more commercial realms of gaming culture.
This is, in fact, nonsense. The team approached Valve last year on the off chance the company would be interested, but it's only in the last few weeks that a deal has been finalised. Any members of the gaming press who were 'in the know' have been strictly forbidden from talking about Dear Esther's commercialisation since the deal first looked somewhat likely to go through, towards the end of 2010.
Could there be other reasons for people to feel betrayed?
"And there are parts of the mod community who are just completely anti-commercial," explained our friend on Twitter. "For those, making a mod and then going commercial with it is as bad as it comes."
This would make more sense. Such anti-commercial sentiments exist in a range of cultural areas. It happens in music, of course: angry fans ranting about how their past indie heroes have 'sold out' to the recording industry. But this isn't a case of a band changing its sound, nor is it a case of a small-time indie joining the ranks of big business. The developers are remaining independent, simply using Steam as a platform on which to sell their game. Moreover, nothing about Dear Esther will be changing as a result of the Valve deal – except, of course, the price.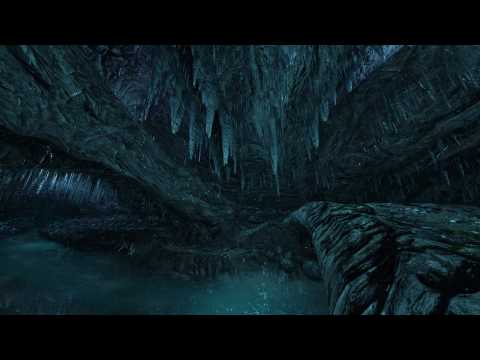 Are people simply unhappy to fork out money for their gaming time? It seems unlikely, given that Briscoe has already confirmed that the game will be launched at a low price point. But I've seen some players say they're not sure they'll be able to spend much money on games this Summer, and Esther might not find its way into their collection as a result. Times are hard at the moment, they say. They were looking forward to being able to play something wonderful, and not have to worry about the finances attached to that.
Which sounds reasonable – but people do buy games, even in this era of economic crisis. People set money aside for them. It seems unlikely that many people – young or old, rich or poor – would struggle to save up a fiver over the next half year.
Maybe, though, it's the type of game Dear Esther is.
It's an ambitious, experimental project. In Dear Esther, there are no traditional game mechanics. It is perhaps more akin to a visual novel, or similar. You arrive on an island with no idea why you're there, compelled by the spirit of someone named Esther. And you explore it. You uncover snippets of the story, which you can piece together into a satisfying – if tragic – whole.
There are no puzzles. There are certainly no guns.
This, it would seem, is a problem for many – and one user in particular pricked my ears up when he said this:
"For me, I always felt that this was a work of art. Something that can only be born out of the modding community. And having to be charged as if it were a game feels like I'm having to pay strict admission at the Art Museum."
I found this comment fascinating. Here is a player who loved the original mod, who felt it was a work of art, and yet has a problem with paying for it as a result.
Should we have a right to enjoy art for free? Should art reside in its own special place, where it's created only for art's sake and not for any commercial gain? Does money devalue expression?
These are questions far bigger than the release of a small, independent videogame, by people who are just hoping to make a small amount of money in exhange for the years of their lives they've committed.