Benjamin Blank
August 11, 2009 - 2:57 pm
King Of Fighters is a title that, if nothing else, is somewhat over shadowed by the more accessible Street Fighter series. Street Fighter capitalized upon speed and ease of combos mixed with interesting protagonists of which some drew inspirations from stereotypes and familiarities that gamers could get their teeth into.
The series now known as King Of Fighters was, and in many regards is, Street Fighter's darker, hardcore brother. Featuring a roster of characters seemingly ripped straight from adult-rated anime, these characters weren't here to mess around, they meant business.
However, if there is only one thing King Of Fighters can claim over Street Fighter it's the size of the franchise. In fact, the King Of Fighters series spans over fourteen games and three franchises with over seventy characters, and this is just the main storyline. To call King Of Fighters under developed is pretty far off the mark.
Any console you can think of is probably home to an incarnation of the franchise, from the Mega Drive to the Dreamcast, from the PlayStation to the Xbox 360. King Of Fighters has dominated platforms since its origins. Which believe it or not didn't actually start with the King Of Fighters name.
In anticipation of the upcoming title, King of Fighters XII, BeefJack has compiled everything you need to know about the story in one tidy place. In the first of this four part feature, we look at all that came before the very first KOF game all the way back to the Art Of Fighting, through to Fatal Fury then onto the very first story line in the King Of Fighters.

Use it to catch up, refresh your memory, experience a new franchise or just avoid doing any household or work related tasks. The choice is yours…
Read on for the start of part one… The story is a little complex towards the start but persistence will result in reward.
Art Of Fighting
The storyline begins with the release of Art Of Fighting by SNK in 1992.  However, it is important to note this was not the first title to be released, as although Art Of Fighting precedes Fatal Fury by ten years in terms of its storyline, Fatal Fury was actually released in 1991.
Art Of Fighting begins with a man called Geese Howard who through drug and gun crime had become Southtown's richest man, far beyond that of even the mayor. He sees the Sakazaki family as a threat and forces Takuma Sakazaki, father of the family, to do his bidding after having his daughter, Yuri Sakazaki, kidnapped by Mr. Big to maintain his rule over Southtown.
Takuma Sakazaki was forced to eliminate Jeff Bogard, arch rival of Geese but before he could begin his search someone in Southtown was tearing up the streets, which caught Geese's attention; luckily Jeff would have to wait.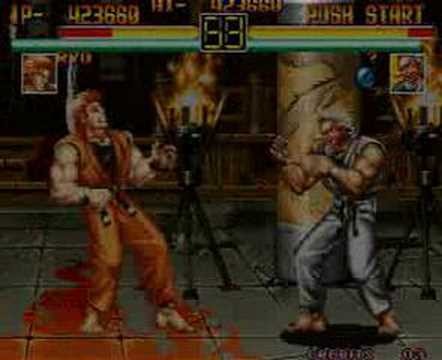 Ryo Sakazaki set out to find his sister (Yuri) along with Robert Garcia, Yuri's love interest. As Ryu and Robert make their way through Southtown Japan fighting numerous foes, they eventually make their way to Mr Karate, who, unbeknownst to Ryo, is actually his father, Takuma Sakazaki.
As Ryo prepares to finish Mr. Karate with a Haoushoukouken(!), Yuri manages to escape and reveals the true identity of Mr. Karate. In doing so she saves her father's life and ends Ryo and Roberts search. The four return to the Sakazaki Dojo and plan their revenge upon Geese Howard and Mr. Big leading into the second Art Of Fighting.
Art Of Fighting 2
Takuma begins to train Yuri upon her request, but against Ryo's will; she trains in secret and eventually becomes the first girl to have mastered the style of Kyokugenryu Karate, the same style as her father and brother.
The family once again fight their way across Southtown hunting down Geese working through his henchmen one by one. Tearing apart the city in their ongoing struggle to avenge their family name until they finally track him down.
After an intense battle Geese falls to the floor and the Sakazaki look set to take reign over Southtown and restore it to peace but not before Geese can escape. Having avenged their family name the Sakazakis do not bother to find him once more. However they still keep a close eye over Southtown maintaining the balance of humanity, for the time being anyway.
Geese furious with loosing to Takuma and Yuri proceeds to eliminate Jeff himself, gunning him down during a drive by, as his two sons Andy and Terry Bogard watch on in horror unable to stop the attack.
Fatal Fury
Ten years later…. After going into hiding in fear of the Sakazaki, Geese had managed to build up a massive underground following and once again rose back to claim Southtown.
Geese opened fighting tournaments known as the King Of Fighters to eliminate any potential threat to his rule in Southtown. He places himself at the number one spot with his body Guard Billy Kane at number two.
At the time of the first Fatal Fury game, Geese's actions come back to haunt him as Terry and Andy Bogard enter the tournament and work their way up to fight and beat Billy, leaving only Geese and Terry to fight.
After an intense fight at the top of the Geese tower Terry manages to land a blow that sends Geese flying out of the building and down to the ground below, and is presumed dead.
Fatal Fury 2
A year later the King Of Fighters tournament is re-opened, not by Geese but by a man called Wolfgang Krauser. Krauser possesses powers beyond that even of Geese and tired of meaningless fights with no challenge aims to hunt down the fighter that defeated Geese and finally test his abilities.
Eight fighters including Andy and Terry Bogard along with Joe , who also fought alongside Andy and Terry in the previous contest, take on Krauser's challenge. Throughout the tournament Krauser mocked and humiliated opponents while Terry used the fights to better himself as he eventually came face to face with Krauser. Terry ultimately beats him using his new found knowledge in the art of fighting, thus concluding the tournament for anther year until 1994 when the first official King Of Fighters game was released.
It was in this year that King Of Fighters would become a staple in the fighting game scene. The storyline that would cover the first two games would follow on from both Art Of Fighting and Fatal Fury and set in stone characters and themes that have followed through till today…
King Of Fighters '94
Rugal Bernstein, a man who had become notorious in black arms dealing through his trafficking in drugs and guns re-opened the tournament although with altered rules.
His intentions for opening the tournament again were known only to him and one other, a man known only as Goenitz. Rugal owned a jet carrier called the Blacknoah and one day came across an intense power. Rugal instantly desired this and tried to obtain it but not before a tall, overpowering figure who called himself Goenitz attacked him, taking his right eye.
Impressed that Rugal even survived the attack, Goenitz offers Rugal a part of this immense power called Orochi, warning him that only the bloodline of Orochi can use this power and if anyone else were to try, it would result in devastating consequences.
Eager to use his new found power, Rugal sends out invitations to eight teams of the world's greatest fighters. Contestants would fight one-on-one until they were defeated then the next member of that team would join the battle. The fight would continue until only one team was left. This would come to be known as the new King Of Fighters tournament.
As the new tournament begins upon the Blacknoah, Rugal is approached by Saisyu Kusanagi who attempts to stop him in using the Orochi, but Saisyu is beaten after a short but furious fight and left for dead. Eventually, the Japan team consisting of Benimaru Nikaido, Goro Daimon and Kyo Kusanagi, son of Saisyu, attempt to battle Rugal. Benimaru and Goro are knocked aside after a brave but futile battle and Kyo steps up to Rugal.
Rugal instantly recognises Kyo's style from his fathers and is able to counter even the most devastating attacks Kyo can put forth. As Kyo is on the verge of defeat he kneels down on the floor and is about to accept his fate before he notices his father's body behind Rugal. Filled with rage and honour, Kyo blocked Rugal's attack and counters; fatally injuring Rugal.
Rugal is too ashamed to face defeat and attempts to self detonate the Blacknoah. The Japan Team make a last-second escape as the Blacknoah goes up in flames, supposedly along with Rugal himself.
King Of Fighters '95
Rugal however got his wish, pushed to his limit he used his Orochi power to survive the blast despite extreme damage to his right arm, which he replaces with a cyborg arm. Haunted by shame and driven by revenge, Rugal hosts the tournament again in the next year but keeps his identity secret only writing an R on the invitations he sends out to the same competitors as last year, all attend except one; the USA team.
A new team did appear in place of them consisting of ex-tournament champion Billy Kane, Eiji Kisaragi and the mysterious Iori Yamagi, descendent of the of the Yamagi family and sworn rival of the Kusanagis. Creating a tournament now filed with personal interest the King Of Fighters '95 began.
The tournament went on, containing fearsome fights full of passion and blood the likes the world had never seen before. The Japan Team, now known as the Hero Team, work their way through the tournament to the final stage. After their last fight, the Hero Team were taken away and gassed so they could be transported to Rugal's secret underground base.
Kyo woke up to the sound of Rugal's menacing laughter and instantly knew what had happened but the trio were also greeted by Saisyu Kusanagi. Kyo's father had been brainwashed after the last tournament and now stood before Kyo, Benimaru and Goro ready to fight them to the death.
Under control of Rugal, Saisyu was unable to fight to his full potential but still defeated Benimaru and Goro before he was defeated by his son, leaving Kyo and Rugal to face off once and for all. Heavily wounded and possibly dying, Saisyu came around and made his son promise him that he'd take revenge for this and defeat Rugal.
Kyo stepped away from his father overcome with rage and turned to Rugal and the two began to face off. As Rugal fought on, his hatred and shame started to over come him and the Orochi started to awaken inside him and he was eventually over come by it. This transformed him into Omega Rugal.
With intense superior power, the two fought to the death across the missile platform of Rugal's base. As the fight went on Rugal only became more powerful but started to lose control of his immense power as it consumed him. Kyo used this to his advantage and pushed Rugal as hard as he could forcing his power to completely overcome him.
Rugal began to scream in pain as a white light emerged that started to engulf him, at this moment other fighters approach the scene including Iori, who in Rugal's last moments told him "Only those of the bloodline can control such power! You didn't have a chance!" Rugal is consumed by the light and swears to one day return and finish off Kyo once and for all.
The Hero Team flees the base and thus concludes the tournament for another year as a lone figure looks on at the warriors in the distance. "Kyo you can't escape the Kusangi Fate, we face a greater battle soon to begin…strengthen yourself Kyo, good luck" says his father wishing him peace as he goes his own way. As he turns his back he does so with faith that his son will be able to carry on the work he had only started, faithful that his son will one day be the King Of Fighters!
It's quite a read and the complex names may have confused you initially but the story is often overlooked by players, even those who call themselves fans of the series may not know the ins and outs of the story. Consider yourself in a privileged position. If you liked this, we've got another three coming your way bulding up to the release of King Of Fighters XII on Xbox 360 and PlayStation 3 on July 28 in the USA and September 4th in Europe. Keep your eyes on the site for part two this Sunday, 16 August.