Jeremy Peel
June 15, 2012 - 2:00 pm
Feature: Last October, Hollywood came calling for Canabalt developer Adam Atomic. Lions Gate Studios wanted a game to promote major motion picture The Hunger Games. Here's what happened next.
It's Monday morning on the Tube, and black-suited city execs sit shoulder-to-shoulder along the carriage in a noir-ish paper chain. Most stare dutifully over the left ear of the suit opposite, but one is hunched in his seat to get a better look at the iPhone cradled in his lap. Tap, tap, tap, he goes, incessantly. The better part of today will be spent launching his on-screen counterpart over the rooftops of Canabalt's miniature dystopia.
That's the best explanation I can muster as to why, when outsourcing a teaser game to accompany the release of multi-million dollar teen phenomenon The Hunger Games, film studio Lions Gate forewent the mainstream tie-in specialists at Ubisoft and EA and instead called Canabalt creator and indie hero Adam 'Atomic' Saltsman.
"Lions Gate asked if I was interested, and I was," says Saltsman. He'd read Suzanne Collins' bestselling books months before, and been struck by the freshness of their odd pacing and framing ("half beauty pageant, half civil war," as he describes it). He'd loved the sense of weight in the characters' choices, and in particularly empathised with Katniss, the series' heroine. "She doesn't have superpowers, and her personality flows from her past and her friends in a way that makes a lot of sense to me," he says.
So Adam said yes, and set about assembling an indie supergroup fit for the task.
Artist and animator Paul Veer – who you may know for his masterclass in pixel art explosions in Vlambeer's Super Crate Box – was Skyped "out of the blue" by Saltsman, and signed up despite his relative ignorance of the crown of teen fiction. Composer Danny 'Danny B' Baranowsky, meanwhile, had worked with Saltsman on both Canabalt and Gravity Hook.
"When he asked me if I wanted to work on it, it was a no-brainer," he says. "I'm generally a fan of post-apocalyptic and dystopian future stories. And my girlfriend was a huge fan of The Hunger Games, so I gained a lot of cool points with her."
Hungry for ideas
All were worried about the project's tight schedule. "We pared the design down to just the strongest core idea we could to compensate," says Saltsman. "The hard part really was picking and choosing what themes would fit best with an action game, but once we figured that out we were all set."
Saltsman decided that he would build his game around a concept on the periphery of the film's plot – a chase through the woods of District 12 – the outlying deprived region of Collins' dystopian state, where starving protagonist Katniss Everdeen hunts for her family's survival. The scene would predate the events of The Hunger Games in order to avoid spoiling elements of its story.
"I don't think there is any part of the story that would actually be better as a videogame than it was as a book or film," says Saltsman. "So why not explore some new episode?"
The Hunger Games: Girl on Fire would instead take one aspect of the story – its highly-skilled, empathetic huntress Katniss, and her fight against the increasingly desperate odds which threaten to overwhelm her – and make it the game's centrepiece. Katniss – who in the film volunteers for the eponymous games to save her younger sister – is a strong maternal figure, motivated by a need to protect those weaker than her. In teen fiction, Hollywood, and in videogames, she's an anomaly the team is proud to work with.
"She's sort of a mom and a brilliant strategist and a skilled hunter and a confused teenage girl all at the same time," says Saltsman. Baranowsky agrees: "I'm all about closing the videogame gender gap. It's good to see strong female leads in games and there should be more."
"I'm glad we got a chance to add a character to that roster of female characters who aren't idiots with boob-physics," adds Veer.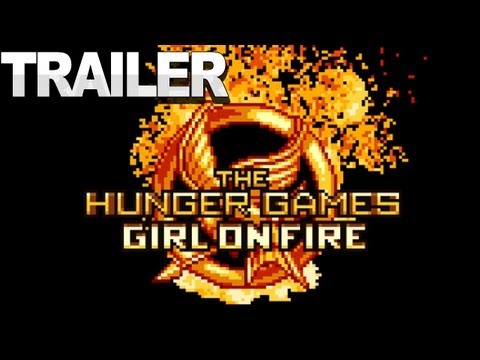 In the game, players take control of Katniss as she runs through a gauntlet of obstacles in a manner superficially similar to Saltsman's Canabalt. "My goal wasn't so much to build Canabalt 2, but to just keep exploring the space bounded by 'intuitive iOS game'," he says. "My main focus was on the shooting and dodging." Players shoot Katniss' iconic bow with a thumb-tap of its target, and dodge the game's chicanery with a simple sweep to have her hop between the game's two levels of elevation.
For much of the game, the subjects of both shooting and dodging are the Tracker Jackers, Collins' genetically-modified killer wasps, but they weren't the team's first choice. "We proposed something that was actually much more sci-fi," recalls Saltsman, "but Suzanne requested that we just use the Trackers instead, since they basically fit the bill already and were part of the story universe."
Pushing pixels
Veer's trickiest job was in adapting the Trackers – and Katniss herself – for his 16-bit retro pixel art style. "I looked at the reference material and tried to take the most iconic elements from those," he says. "With pixel art you have very little room for details, so focusing on the most iconic elements and sometimes exaggerating those will make it easier for people to recognise."
Veer also added scrolling Sonic the Hedgehog-like parallax backgrounds to the levels, which lend the game greater depth – a sense that there's more to the game's world than what's in view. "We really wanted to have a lot of parallax layers so the world felt real and not like a 2D game world," he says.
Baranowsky didn't have access to the film's soundtrack during development, and so relied on clips in the film's trailers and his own instincts. "I felt that having an epic orchestral presentation was critical to matching the scope of the movie," he says. "At the same time, the 16-bit aesthetic seemed to call for at least a little old school flavour. I think a lot of videogame soundtracks often take themselves too seriously and forget that they are videogame soundtracks. So it's okay to have huge orchestras and bombastic horn lines but it's important not to discount the effectiveness of electronic textures, especially when the film has futuristic themes."
Baranowsky and the rest of team were pleased to find working with 'Hollywood' didn't lead to creative stricture at the hand of the studio. Instead, they found themselves taking a pre-emptive approach to editing their work. "Sometimes it was pretty obvious before we even started on something that they wouldn't approve it," says Veer. "So that made it easy to scrap some ideas."
Which begs the question. It's a highly subjective, arguably silly thing, but a lot of indies have self-imposed creative boundaries that would prevent them from getting involved with a Hollywood project. Did any of the team worry about their indie cred?
Saltsman says the thought never occurred to him, but Veer is more vocal: "Not at all. I work on projects I believe in, and to me it doesn't matter if it's a small indie project or a big AAA Hollywood thing. If I get to work with cool people and make something I can be proud of, then I see no reason in worrying about some silly thing like 'indie cred'."
Baranowsky seems perhaps the most confident in his stance. "If I lose credibility in anyone's eyes because of working for a large corporation, I think it says more about them than it does about me," he says. "There's a difference between writing music for a 16-bit-themed game based on literature that you like, and doing soulless, generic music for Zynga because they throw hundreds of thousands of dollars at you.
"I would like to think I would choose the former any time."